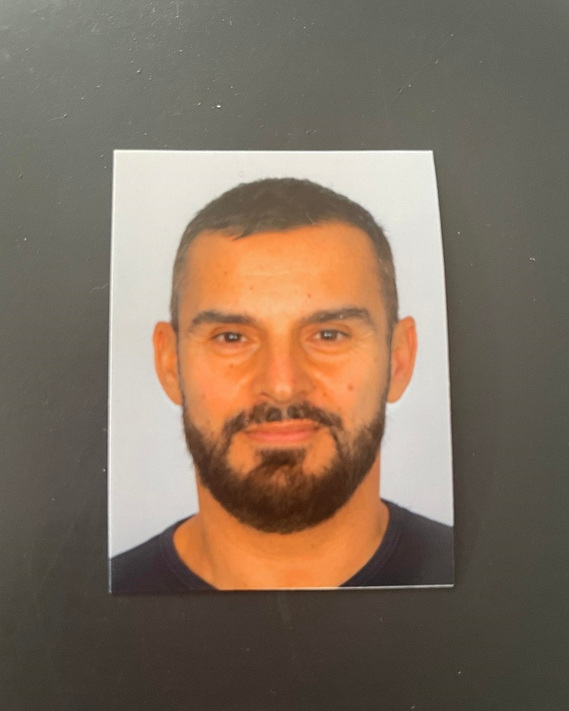 « Qu'on le sache bien une bonne fois pour toutes je ne veux pas me civiliser …»
Arthur Cravan, poète et boxeur.
Originaire de l'île de beauté David Vincent Camuglio est convaincu dès son plus jeune âge qu'il fera de la mode.
Il fait ses armes chez Richard Carrière, maître tailleur rue du marché st honoré oû il acquiert les techniques du métier, il apprend le travail de la peau et de la fourrure, assiste Popy Moréni, travaille pour Louis Féraud avant de suivre les cours de l'école Formamod et du Studio Berçôt oû il terminera Major de sa promo.
Un passage chez différents créateurs comme Jérémy Scott, Bertrand Maréchal, Shirtology's, Lanvin et un détour à New York sont déterminants dans sa volonté de présenter sa vision personnelle de la mode.
De retour à Paris il enchaîne les concours, le "Barclay Catwalk" à Zurich et celui de Riga en Lettonie avant de présenter sa première collection le P/été 2001, il est ensuite sélectionné par le musée Galliera pour l'exposition "les nouveaux créateurs".
Grâce au soutien de Jean-Jacques Picart, il reçoit la bourse LVMH pour 2 collections, entouré par la ville de Paris il défile au Musée Galliera, au Louvre et reçoit les sponsors de Solstiss, Saga Furs...
Depuis plusieurs saisons, DVC Présente ses collections dans le calendrier du prêt-à-porter, participe à de nombreux festivals de mode dans le monde entier et collabore avec le théâtre, le cinéma et des écoles de mode comme consultant ...
" Ma recherche se concentre sur la conception d'un vêtement contemporain de très grande qualité, ce travail se déroule en deux temps :
-Tout d'abord par une histoire ou un rêve qui naissent au travers d'un flash, grâce à une image, une silhouette, un détail, une phrase ; cette inspiration propulse le démarrage de la nouvelle collection, elle sera mon fil conducteur.
Elle peut m'emmener dans des contrées lointaines comme en 2003 ou je suis parti à saint Petersbourg afin de développer la collection d'hiver.
-Ensuite, il s'agit de construire le vêtement qui se base sur l'étude du corps, son mouvement, ses articulations, sa peau, ses muscles.
C'est un véritable travail de laboratoire qui expérimente de nouveaux volumes.
Chaque pièce ainsi élaborée se distingue par sa tenue, sa force, sa coupe, et ses matières.
Mon but est d'apporter un nouveau travail de mode."

David Vincent Camuglio
« Let it be known, I will not get civilized… »
Arthur Cravan, Poet & Boxer.
From his birthplace in Corsica, David Vincent Camuglio was determined from the word go that he would enter the world of fashion; with this conviction he left Corsica and went to Paris.
He started his career at Richard Carrière, bespoke tailor on the rue du faubourg saint-honoré, and then learnt the art of leather with a furrier; he subsequently assisted Popy Moréni and worked Louis Féraud before studying at the Formamod & the Studio Berçôt Fashion School.
Next came work with various creators such as Jeremy Scott, Bertrand Marechal, Shirtology's, Lanvin, and a spell in New-York which persuaded him to present hisown personal vision of fashion.
Back in Paris, he participated in competitions, the Barclay Catwalk in Zurich and one in Riga Lethuania, prior to organising his first collection, spring/summer 2001.
In 2002 he participated to the exhibition: "New Fashion Designer" at the museum Galliera.
Thanks to support from Jean-Jacques Picart, he received a scholarship from the LVMH group for two collections, and supported by the city of Paris, he had a fashion show at the Musée Galliéra, the Louvre and was sponsored by Solstiss, Saga Furs...
Since a few seasons, he presents his collections in the prêt-à-porter calendar, participates in Fashion Festival in the worldwide, collaborated with the theater, the cinema and Fashion School...
"I want to concentrate on the conception of a high quality modern garment, using the following; two keys approaches:
- Initially, through a story or a dream, born of a momentary flash, reflecting a picture, a silhouette, a detail, a phrase; this inspiration is the dynamic of the new collection and will be its constant Thread; It may lead me into far countries as in 2003 when I went to Saint Petersburg to develop my winter Collection.
- Subsequently to create the garment based on the woman body: Movement, articulations, skin, Muscles; it will be a true laboratory task, experimenting with new masses.
Each garment prepared will demonstrate its style, its strength, its cut and its material.
My object is to create a new element of fashion."

David Vincent Camuglio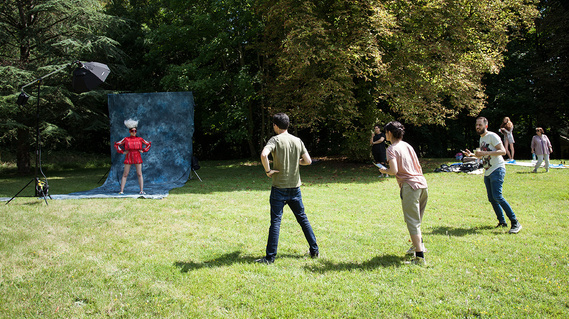 MODELS - 2010 / Court-métrage de Jocelyn Le Creurer