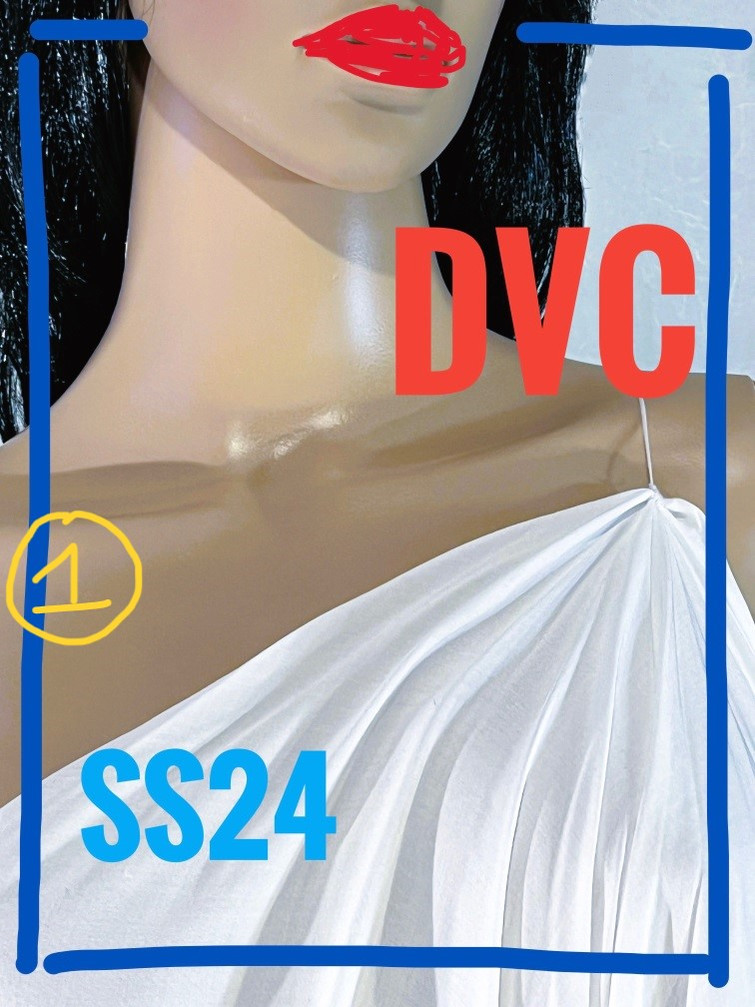 David Vincent Camuglio nous présente sa dernière collection, intitulée "Drapés Divins". Une célébration de l'union entre le divin et la mode contemporaine.
Cette collection printemps-été 2024 est empreinte de pureté et de transparence, deux éléments clés qui sauront charmer les femmes les plus exigeantes. À travers des drapés gracieux et des jeux de transparences délicates, David Vincent Camuglio s'inspire des statues religieuses chrétiennes et antiques, créant ainsi une atmosphère empreinte de spiritualité et d'art sacré.
Les silhouettes féminines sont mises en valeur, avec une puissance et une délicatesse qui ne manqueront pas de captiver les regards. Les tissus choisis sont nobles et fluides, offrant une sensation de pureté tout en laissant place à l'imagination. Mousseline, toile et jersey de soie se mêlent au voile et au jersey de coton, recréant les plis et les drapés si caractéristiques des statues chrétiennes.
La palette de couleurs s'inspire des trois teintes mariales, symbolisant la modestie, la pureté, la grâce et la chaleur de l'amour maternel. Une véritable ode à la spiritualité et à la beauté intemporelle qui nous transporte dans un univers empreint de douceur et de sérénité.
Les silhouettes de cette collection sont à la fois classiques et contemporaines, alliant les codes de la tradition religieuse à des touches modernes. Des robes longues aux jupes fluides, chaque pièce est conçue pour mettre en valeur la féminité tout en préservant une certaine modestie, symbole d'une élégance intemporelle.
La collection "Drapés Divins" de David Vincent Camuglio est une véritable invitation à la connexion entre la mode et le divin. Une opportunité pour les femmes de se sentir à la fois élégantes et spirituelles, dans des créations d'une beauté transcendante.

DLTC
David Vincent Camuglio presents his latest collection, entitled "Divine Drapes". A celebration of the union between the divine and contemporary fashion.
This Spring-Summer 2024 collection is marked by purity and transparency, two key elements that will charm the most demanding women. Through graceful drapes and delicate transparencies, David Vincent Camuglio draws inspiration from Christian and ancient religious statues, creating an atmosphere infused with spirituality and sacred art.
Feminine silhouettes are highlighted, with a power and delicacy that will not fail to captivate attention. The fabrics chosen are noble and fluid, offering a feeling of purity while leaving room for imagination. Muslin, canvas and silk jersey mingle with veil and cotton jersey, recreating the folds and drapes so characteristic of Christian statues.
The color palette draws inspiration from the three Marian hues, symbolizing modesty, purity, grace, and the warm embrace of maternal love. A true homage to spirituality and timeless beauty, enveloping us in a world of serenity and tranquility.
The collection's silhouettes are both classic and contemporary, artfully blending the codes of religious tradition with modern touches. From long gowns to flowing skirts, each piece is designed to enhance femininity while preserving a sense of modesty, embodying timeless elegance.
David Vincent Camuglio's "Divine Drapes" collection is an invitation to explore the connection between fashion and the divine. It offers women an opportunity to feel both elegant and spiritual, adorned in creations of transcendent beauty.
DLTC